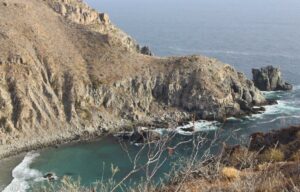 Hike the cliffs above Punta Lobos Beach to get panoramic views of the Baja coastline and wildlife habitats. Your guide will tell you all about the area, point out local wildlife, and keep you entertained. Despite being just outside the town, you'll feel like you are exploring the wild. From November to March, there are whale watching opportunities along the way. Watch humpback whales and gray whales passing by or resting as they settle into their breeding grounds. You'll also see the good-natured sea lions frolicking on the rockery. Whatever the season, there will always be magnificent views of the Pacific.
You can choose to end the hike either at the sea lion colony, on a beautiful secluded sandy beach by the palm trees where you can cool off with a dip in the ocean, or at a snorkeling cove where you can continue your day of adventure.
You can choose a short hike and end at a sea lion colony or continue to the old port on a pebble beach.
Or you can choose a longer hike that ends on a secluded sandy beach surrounded by palm trees. Here, you can cool off in the ocean and rest in the shade of the palms until you return with our driver (who will be waiting for you).