Your Adventure Itineraries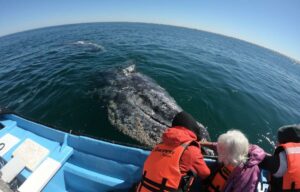 Our 6 AM departure gives us plenty of time to travel from Todos Santos to Magdalena Bay. Once we arrive, we'll leave our van behind and board the boat to start spotting the majestic gray whales. Sail away from a sleepy little fishing town in the middle of Baja, observing whales from close by as they roam around their breeding grounds in the sheltered waters of the bay. On our travels, we may be visited by frigate birds and other local sea life.
Support local businesses while eating fresh and delicious food from ranchers and fishermen's families. By running these tours, it allows fishermen a new form of income and means that they reduce the amount of time they spend fishing, which helps replenish the ecosystem.
We abide by all procedures to protect the whales and other wildlife.
This overnight whale watching experience gives you two opportunities to spot the beautiful gray whales in their breeding grounds. We'll drive from Todos Santos to the bay through desert landscapes where you will spot different types of cacti and desert wildlife. On one of your days here, you will head out in Bahía Magdalena from López Mateos and the other expedition will be in Puerto Chale. See young gray whale calves learning to breathe, breach, swim against the current, and dive as they accompany their mothers through the waters of the bay.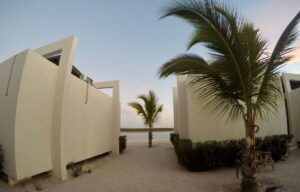 Explore the impressive sand dunes on Isla Magdalena and sail through the mangrove channels – you'll be amazed by how many ecosystems have evolved in such a small area. Your meals will consist of fresh local seafood such as fish and lobster, caught by local fishermen. You'll spend the night in a hotel by the bay and be treated to dinner under the stars.
Whale watching in Magdalena Bay is an experience you'll never forget.
This is the ultimate Baja California whale watching experience. Spend more time on the magical Isla Magdalena and get a feel for the real Baja lifestyle. You'll stay in the house of a local fisherman in a mystical fishing village and enjoy meals of fresh seafood such as fish and lobster.
You'll embark on three whale-watching expeditions over the three days and you can expect life-changing encounters with the majestic California gray whales that congregate in the sheltered bay which is one of their breeding grounds. Watch mothers teach their calves how to breathe, breach, and dive, and you may be treated to the spy-hopping phenomenon.
As well as sunrises and sunsets over the bay, you will explore the area with visits to the beautiful mangroves, walks over the sand dunes, strolls along the Pacific beaches peppered with sand dollars, and sightings of various wildlife that live in the area.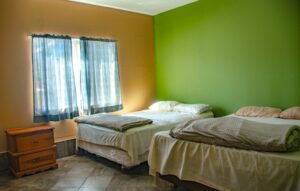 Explora Baja are dedicated to working hand in hand with the islanders and ensuring that the tours we provide leave no impact on the environment and can provide livelihoods for the local community.