Price
Adults: $120 US ($2,400 MXN) *
5 and under: $60 US ($2,400MXN)
*USD prices are approximate and final checkout will be in Mexican pesos (see book now button for details)
---
Departure times
Departure times are designated daily based on availability.
---
---
Availability
Monday to Sunday, October to April
---
---
---
Good to know
This tour is ideal for people who are already in La Paz and looking for a unique half-day activity.
La Paz is one hour from Todos Santos and two hours from Cabo. The excursion is on the bay of La Paz, on the Sea of Cortez.
From December to April, the wind can feel cold if you get wet, so bring a hoodie, windbreaker, or jacket.
La Paz Bay is a highly regulated area, only 14 boats are allowed to go into the swimming area every three hours.
---
Included
Snorkeling gear and wetsuits
Permits to swim with whale sharks
Certified guide and captain
---
---
What to bring
Swimsuit & towel
Hat & reef-safe sun protection
Water bottle to refill (no plastic bottles allowed on the tour)
Jacket/sweatshirt
---
About your guide
A certified, local, bilingual guide and certified local captain
---
Half-Day Whale Sharks Itinerary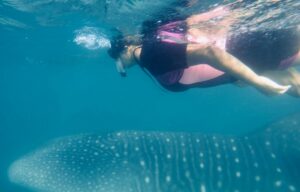 Meet us at the marina for a fun-filled La Paz whale shark tour. We'll hop into the boat and get out into the bay of La Paz to explore the waters of the Sea of Cortez. Your experienced guide will spend time searching for whale sharks while you get your snorkeling gear on. Once a whale shark has been spotted, you will take turns (two or 4 at a time) to spend time in the water with them while ensuring you don't disturb them while they are feeding on plankton. We spend between 2 and 3 hours in the area with these magnificent sharks and then return to the marina
This is the ideal tour for people who are in La Paz and want to swim with whale sharks in a respectful and sustainable way.